While there are plenty of popular bands that receive widespread recognition, there are also many lesser-known groups that deserve more attention. These underrated bands often have a unique sound or message that sets them apart from the mainstream, and they can offer a refreshing change of pace for listeners looking for something new. In this article, we'll highlight five underrated bands that you should be listening to right now. From indie rock to experimental pop, these groups offer a range of musical styles that are worth exploring. By taking the time to discover these lesser-known bands, you might just find your next favorite artist. So if you're tired of listening to the same old songs on repeat, read on to learn more about these hidden musical gems.
This band takes me back to my high school years. My boyfriend was the one who showed me Go Radio. I've seen them live a couple times, once during a headline show and I saw them play at Warped Tour in 2013. I was devastated when they broke up in 2013. Last year, they reunited and have been releasing new music and my heart is so happy. If you haven't heard of this amazing band, I highly recommend you look them up now.
My Recommendation: "Goodnight Moon" or "Lucky Street"
Latest Release: "So Love" (July 2020)
Here's another band that I've been listening to for awhile. I first discovered Seaway on the Pure Noise Records tour in 2016 when they toured with Hit the Lights. I loved their live set, and I feel like their sound has evolved so much since I first heard their album Colour Blind. If you don't know this band, you're honestly missing out.
My Recommendation: "Best Mistake"
Latest Release: Big Vibe (October 2020) -Honestly such a vibe

This is a band I recently discovered earlier this year. Hotmilk was on my Spotify Discover Weekly and I was pleasantly surprised by this dual-fronted band. I quickly became obsessed with their song "June Gloom" and had to add it to my 2020 favorites playlist. I love their edgy sound. They may only have one EP (Are You Feeling Alive?) that was released in 2019, but this is a band that you will need to watch out for.
My Recommendation: "June Gloom" or "Candy Coated Lie$"
Latest Release: "Glass Spiders" (October 2020)

I first saw this band open for State Champs in 2017 when they played at the Deluxe at Old National Centre in Indianapolis. I liked their energy and sound so I went home and looked up more of their songs. Since then, they've released their first album, and I've loved seeing them grow as a band over the years. Keep an eye out for these guys, because I have a feeling they are going to get big within the pop punk scene!
My Recommendation: "Eyes Closed"
Latest Release: Hello, Its You (November 2020)

It was a nice surprise discovering this female-fronted band at Sad Summer Fest last year. I remember watching them from the lawn at Express Live and seeing the guitarist playing in the crowd with a circle pit going on around him. It was in the top 3 best things I saw that day! Not only is their stage presence and energy amazing, but they also have some really catchy songs.
My Recommendation: "Coffee At Midnight" or "Jurassic Park"
Latest Release: Pink Elephant (August 2020)
I've been listening to Settle Your Scores ever since I saw them play in Indianapolis a few years ago with some of my favorite local bands. I ended up going to the Cincinnati Vans Warped Tour in 2016, and I was so excited when I found out Settle Your Scores was playing the local band stage. The first time I heard them, I was addicted to their catchy pop punk sound. I can't wait for these guys to make their next move. Did I mention how much I love their "Unwritten" cover?!
My Recommendation: "Underachiever of the Year"
Latest Release: Album #3 (Coming Soon)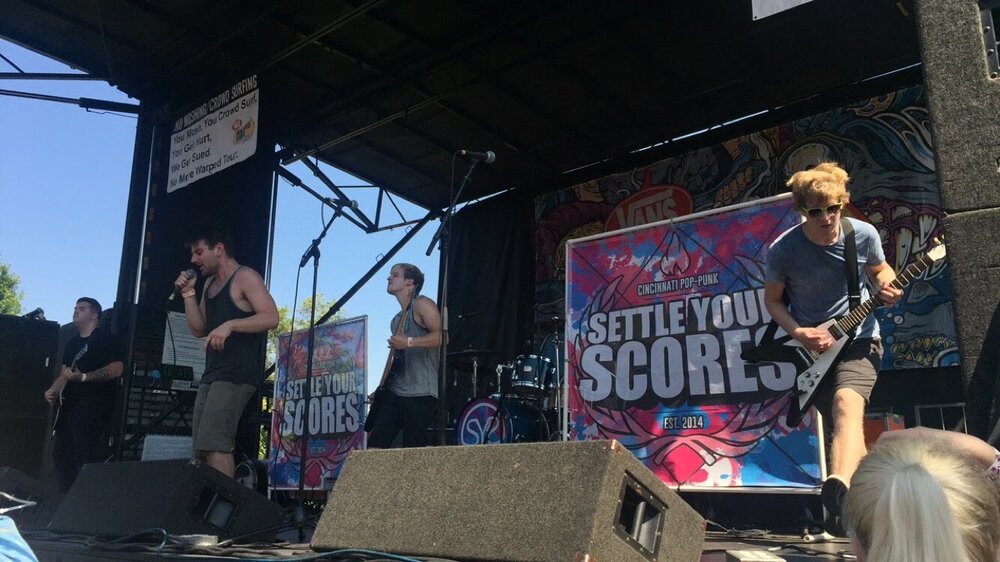 I very recently discovered this band thanks to my favorite band, All Time Low, for shouting them out during one of their livestreams. Meet Me @ The Altar seemingly blew up over night. Not only is the band an all-female pop punk band (we stan), but the group just recently signed on to Fueled By Ramen. I also found out each member lives in different states and they started writing their songs together online – how cool is that? I will impatiently be waiting for their first full-length album!
Song to Check Out: "May the Odds Be in Your Favor"
Latest Release: "Garden" (October 2020)
I recently discovered this pop band on my Spotify Discover Weekly playlist. Let me first say that I was SHOCKED when I looked this band up and they only had about 12,000 monthly listeners on Spotify. Their songs sound like something you would hear on the pop radio charts, so when I found that out, I was very surprised. With that being said, you need to give these guys a listen ASAP because I can tell they are going to blow up soon. You can thank me later.
My Recommendation: "Attention"
Latest Release: "Pressure" (October 2020)
Here we have yet another awesome female-fronted band that is establishing themselves in the pop punk scene. I discovered Yours Truly on Spotify (of course) and I've seen their name popping up at all kinds of music festivals. I have yet to see them live, but seeing they've toured with some of my favorite bands in the scene (hi State Champs), I know this is going to be a band that you'll want to check out.
My Recommendation: "High Hopes"
Latest Release: Self-Care (September 2020)
This is another band I had the privilege of discovering on Spotify. I've been listening to Exit for about a year, and I'm so excited about all the new music they've been releasing this year. Their music is mostly self-produced (super cool) with pop/rock influences. I think they are definitely an underrated band that is slept on. Let's give these guys some love!
My Recommendation: "Here I Go" and "Familiar Ground"